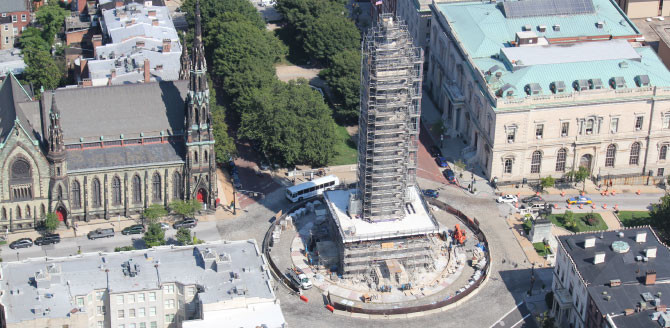 SAFETY FOCUS:
Mt. Vernon Monument Scaffolding by JD Belfield
The Baltimore Washington Monument was a project that JD Belfield worked on for approximately 9 months. During this project, their number one priority was providing adequate fall protection. Falls from elevation are the #1 killer in construction and a focus hazard area of Maryland OSHA. Maryland OSHA's Consultation division actually walked the rooftop and the scaffold level by level to view the work.
To protect our employees for the initial scaffold build, JD Belfield needed to install six horizontal lifelines with rope grabs at the top of the monument, and then the lines were lowered to the erectors below. The purpose of these lifelines was to protect the erectors tasked with installing the 40' long Baltimore Ravens purple colored aluminum I beams for the work deck to be built upon.  The completed work deck was used to give other contractors the ability to work on the existing roof below, while the monument scaffold was being built off the deck by JD Belfield erectors to the top of the monument.
As deck was being completed, Ruff Roofers was able to access the roof deck to waterproof the roof deck to protect the exposed roof from all weather conditions. In order for the Ruff Roofers employees to access the deck and move freely, JD Belfield installed a perimeter guardrail system on the deck to protect their employees from the leading edge fall hazards. The coordination between JD Belfield and Ruff Roofers personal was critical to ensure a water tight finish to protect the 200+ year old monument. The job had many challenges that were overcome with critical thinking and extraordinary people. Overall the project went incident free and was a great success for everyone involved.