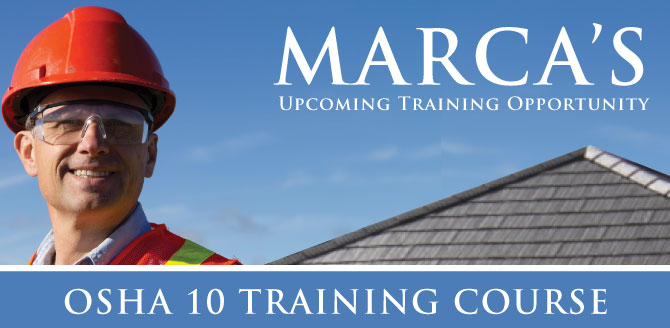 Safety First! MARCA wants you and your coworkers to
stay up-to-date and in compliance with OSHA.

MARCA has partnered with HMS Insurance Associates, Inc. to offer this OSHA 10 training course to MARCA members at a substantially reduced cost. The venue for this training event is provided courtesy of The Roof Center.
Regularly $150 per ticket – this training event is available now for just $10!

When:
03/01/19
8AM-3PM
& 03/02/19
8AM-1PM
Where:
The Roof Center
7075 Oakland Mills Road
Columbia, MD 21046
Cost:
$10.00
includes
lunch both
days
Course Trainers
JOHN STELMA: John holds a BS in Safety Science from Indiana University of PA (IUP). John has 30+ years of service as a safety professional. John served as a safety & training coordinator for 3 years with a clothing manufacturer, 10 as a safety manager for a large utility, road & bridge contractor and 5 years as a Safety & HR manager with a communications contractor performing underground & aerial fiber optic installation. Prior to joining HMS in 2014, John served 9 years as a risk management consultant with Hartford Insurance specializing in Auto & fleet safety, Business contingency planning, WC, GL & Property. Clients included construction contractors, county governments, private education, real estate and manufacturers. John is an authorized OSHA construction trainer and a NSC- forklift, basic rigging and CPR & FA trainer.
MAGNUS TURESSON: Magnus is the Risk Control Director at HMS Insurance Associates where he performs Risk Control Assessments and develops safety programs and policies for construction clients. Prior to joining HMS in 2006, Magnus was the Claims/Risk Control Manager for a large Maryland-based construction contractor and a construction/manufacturing company. Magnus holds a Bachelor of Science in Environmental Health Specialist (EHS) from the University of Michigan and has earned the Advanced Safety Certificate (ASC). Magnus has also completed a number of OSHA training courses and has earned a Safety Certificate in Construction Safety. He is an OSHA outreach trainer and CPR First Aid Trainer.
Class size is limited (20 People Max) – So Don't Delay!